The Scoop about Weight Capacity and Standing Desks
So you're in the market for a sit stand height adjustable desk – maybe a pneumatic standing desk, or perhaps an electric desk. If you're used to a traditional sitting desk, it might be the first time you've ever thought much at all about a desk's weight capacity.
How much weight can an office desk hold? And how much does it need to? It's clear that a standing desk gets easier to use if you have some assistance with the heavy lifting. Manually adjustable desks get harder to raise and lower with every pound you add to the surface.
To help you find the best height adjustable desk to fit your needs, here are 7 important things to consider when it comes to weight and standing desks.
1. The average desk only carries about 15 lbs.
Traditional stationary desks are often built with a 150+ lb weight capacity. But how much does a laptop even weigh? Maybe 2 lbs for a notebook, 6 lbs for a large screen laptop. Adding a keyboard, mouse, external monitor, and riser brings about another 5 lbs into the equation. It's safe to say the average desk has far less than 15 lbs of computer equipment on it. So why does the standard weight capacity for a traditional sitting height desk hover around 150 lbs?
 A 150-pound desk weight capacity is impressive. But it's generally not necessary for our modern devices.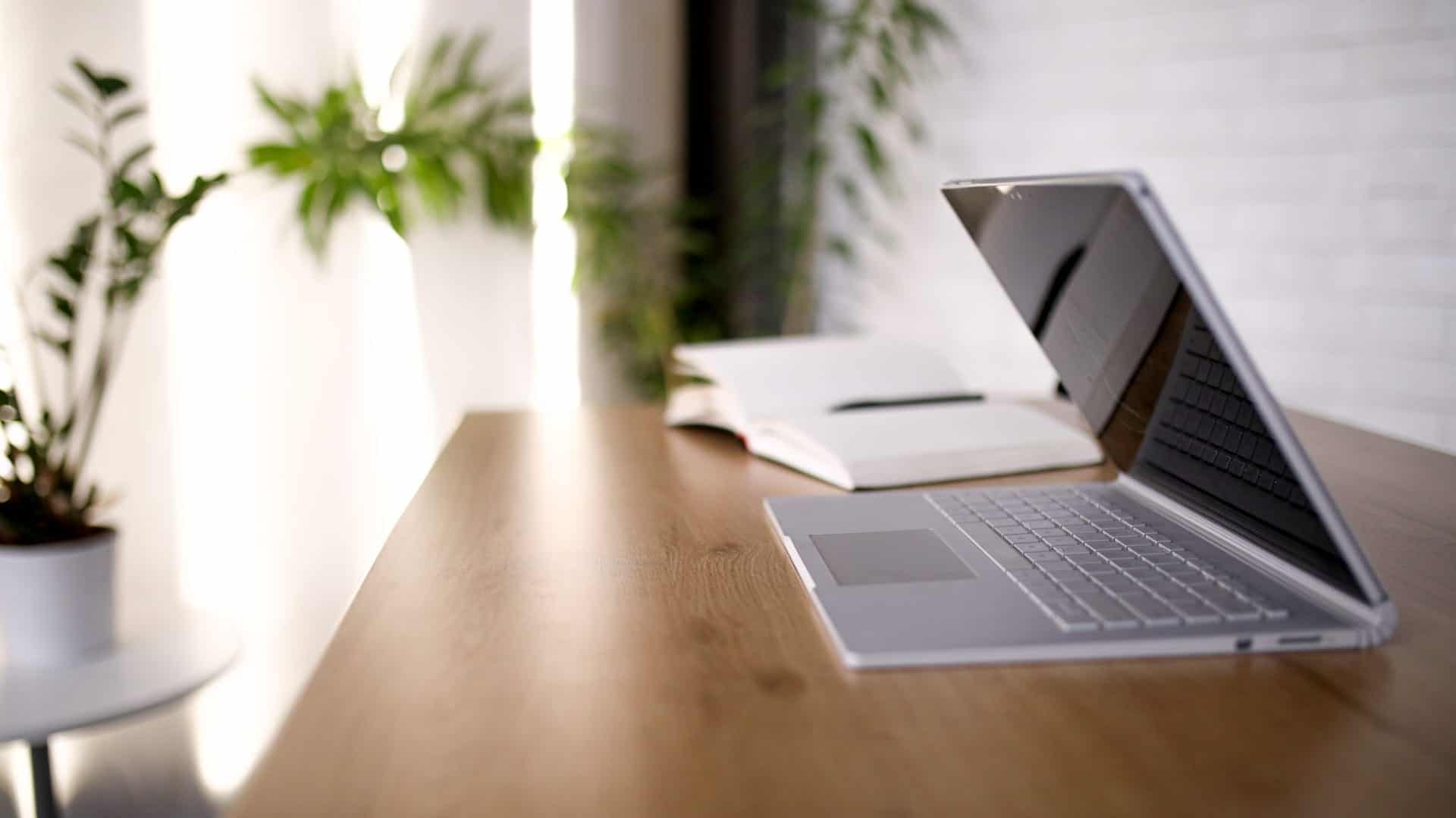 2: Your desk load will be even lighter in the future. 
With the biggest manufacturers selling 'weightlessness' or 'featherweight' laptops, slimmer, sleeker, and thinner are the future for computer tech.
When it comes time to upgrade, devices will be even lighter. You probably don't need a desk with even a 50 lb weight capacity, much less a 150 lb weight capacity. And you never will.
3: You'll like the simplified look of a minimalist standing desk.
Most people like their standing desk cleared of clutter. With a fixed-height desk, they might have let papers and devices pile up, simply because the desk never moved. We find that as people rediscover the awesome ability to move, they keep their desk load light.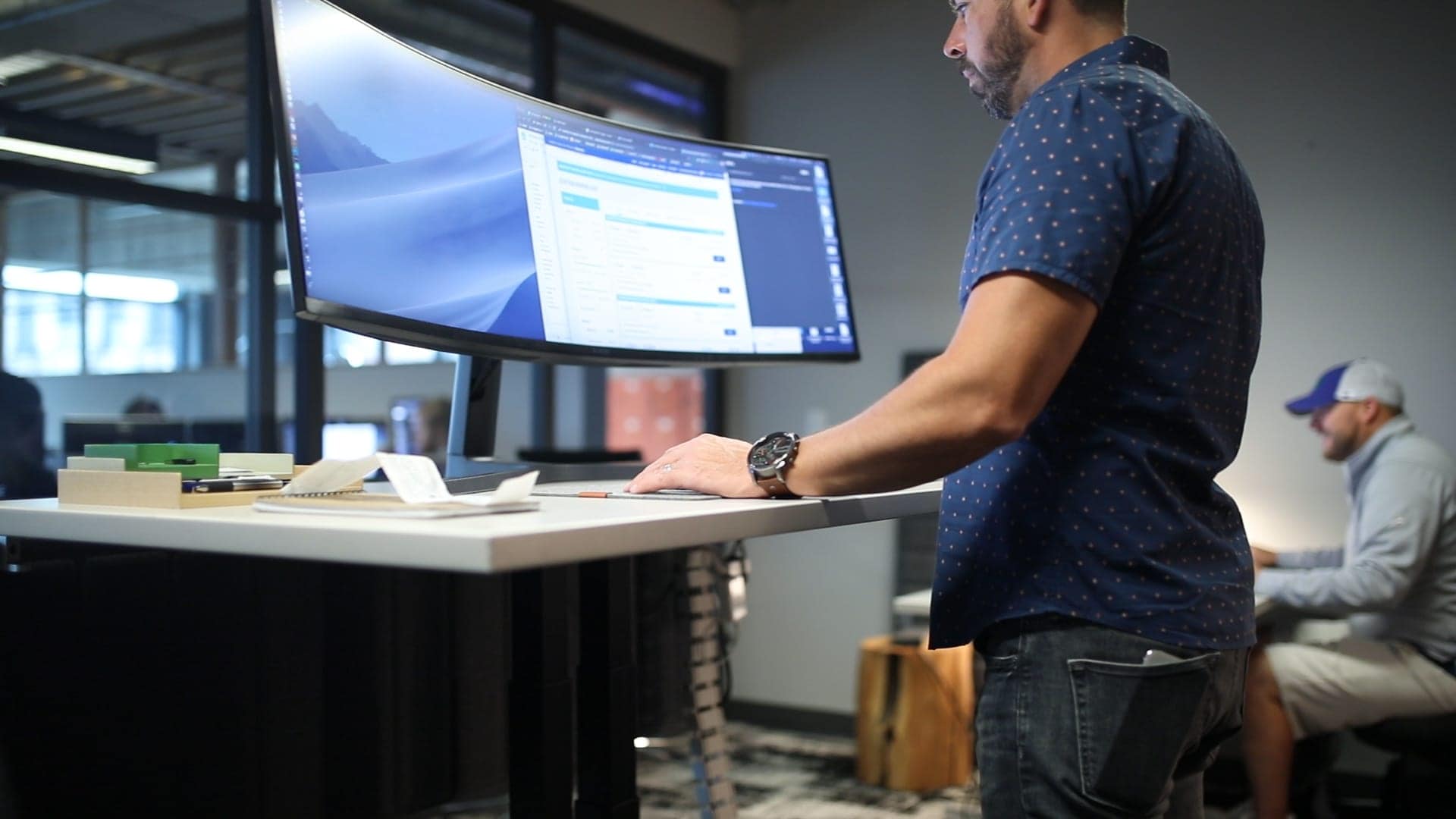 4: Standing desks are described with a "weight capacity."
WEIGHT CAPACITY or "weight limit" is simply the weight that the desk can support in a fixed position without breaking.
A pneumatic sit stand desk's weight capacity averages 150 lbs. Our Ändern and Lüften pneumatic desks hold 150+ lbs safely when locked in place. (Their internal compression spring is lockable.)
5: "Ideal use weight" is unique to pneumatic desks.
"Ideal use weight" is a fairly new term in the standing and height adjustable desk industry, and it describes a central design feature of pneumatic desks.
IDEAL USE WEIGHT is the rough weight range that a pneumatic desk will lift and lower quickly, with minimal effort on your part. Manufacturers will sometimes call this by other names:
"lifting capacity"
"ideal weight range"
"recommended use weight"
"desk 'holds between X-X pounds"
"built for a desk load X-X pounds"
All of these terms describe the same thing. 30-50 lbs is a typical "ideal use weight" for pneumatic standing desks. That does not mean the desk will break if you put 50 lbs on it (at least not with our pneumatic desks). 30-50 lbs is merely the range within which adjustment will be smooth and effortless.
 How quickly does a pneumatic desk adjust? 3 seconds from sit to stand is the gold standard originally set by our Kloud, Ändern and Lüften pneumatic standing desks.
And how minimal is the effort on your part exactly? If the weight of your laptop and computer accessories falls generally within your pneumatic desk's "ideal use weight," adjustment will be about as close to effortless as it gets with a sit to stand desk. You'll simply guide the desk up or down as you hold its adjustment lever. A lever which, fittingly, is also tension-adjustable on our Ändern and Lüften, to give you the ultimate ease of use.
You won't have to manually lift or lower excess weight. If the load on your pneumatic desk is greater than the "ideal use weight" by a few pounds, that's OK. The pace of adjustment will simply be a little slower than 3 seconds. If you exceed it by ~15 lbs or more, you'll have to assist the desk by pushing down or lifting up as you hold its adjustment lever.
 Our Lüften pneumatic desk, for example, is a dual-column pneumatic adjustable desk built for a 40-50 lb desk load. Yes, the desk will still go up and down from sit to stand if you put 65 lbs on it. And those "extra" 15 lbs won't wear out its lifting mechanism (pneumatic Swiss steel legs) over time or shorten its lifespan. The desk will still move quite easily. The adjustment will just be a little bit slower and will require some effort on your part.
6: High weight capacity does NOT always equate to high quality.
Manufacturers would like us to associate a high weight "capacity" or "ideal use weight" (or really, a high number of any kind) with a high-quality product. The truth is, a standing desk's durability hinges on the quality of its design and materials, not its weight metrics. Design and material quality are what will make for a long-lasting, usable standing desk that will lift and lower your desk's load dependably year in and year out.
Our height adjustable desks are benchmarks of good design and high-quality materials, priced comparably to many of the industry's best standing desk converters.
When our team at The Standing Desk designed the Ändern and Lüften pneumatic desks, we did our research to provide two desks that cover 90% of weight needs.
Our Ändern pneumatic desk is made for an ideal use weight of roughly 25-40 lbs. It's a single-column pneumatic desk with a 30″ x 48″ or 24" x 40" work surface — perfect if you work off a laptop.
Our Lüften pneumatic desk is made for an ideal use weight of roughly 40-50 lbs. It's a dual-column pneumatic desk with a 30″ x 60″ work surface – perfect if you have a larger monitor.
7: Certain standing desks offer a higher weight capacity.
Need more? We also offer an adjustable pneumatic desk and two electric desks for those who need a desk that's up for some heavy lifting.
Our Kloud weight adjustable pneumatic desk can be adjusted to lift anywhere between 50 to 175lbs. With a 30″x 48″ or 30″x 60″ work surface — ideal for bigger projects or multiple monitors.
Our Oben brushless electric desk offers over 200 lbs lifting capacity. It's a single-column pneumatic desk with a 30″ x 48″ or 30″x 60″ work surface — ideal for bigger projects or multiple monitors.
Our newer Ändern electric desk is made to lift a desk load of roughly 150 lbs. It's a single-column electric desk with a 30″ x 48″ or 24" x 40" work surface — perfect if you work off a laptop.
Quality comes from craftsmanship and commercial-grade materials. Not from weight capacity. Find a height adjustable desk manufacturer that meets the benchmarks we meet at The Standing Desk. That's how you'll find the best pneumatic standing desk on the market.
Designed in Germany by expert furniture makers
Minimal design = fewer components — a long-lasting, dependable height adjustable desk
Commercial-grade Swiss steel legs = long lifespan
Michigan-manufactured (Made in USA) to meet or exceed American manufacturing standards including BIFMA X5.5.
Do you have any questions we didn't answer? Contact us or drop us a line via our contact form: https://thestandingdesk.com/contact/ — we want to connect!
The Recken Desk
Experience the Strong, Safe & Intelligent Recken Standing Desk
Shop The Recken